Remediation of Free Product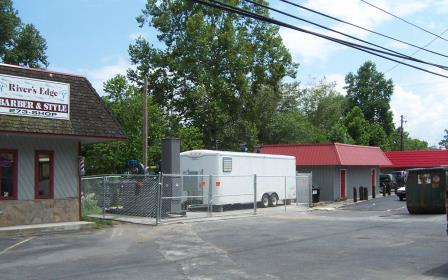 The Site
A former Underground Storage Tank system located in Ellijay, Georgia, comprised of two 6,000-gallon gasoline USTs, and one 3,000-gallon gasoline UST were closed by removal in April 1994. Free product was initially observed seeping into the nearby Coosawattee River, located approximately 150 feet down-gradient from the site, in May 1993.
The Plan
A Corrective Action Plan (CAP) – Part B was submitted to the Underground Storage Tank Management Program (USTMP) on December 21, 2001.
The CAP – Part B objectives included:
Completion of two years of quarterly groundwater monitoring
Remediation of the extensive free product plume to less than 1/8-inch thickness
Remediation of dissolved phase groundwater contamination to In-Stream Water Quality Standards (ISWQS)
Completion of one year of semi-annual monitoring after corrective action objectives had been met
In a letter dated April 9, 2003, the USTMP technically approved the CAP – Part B.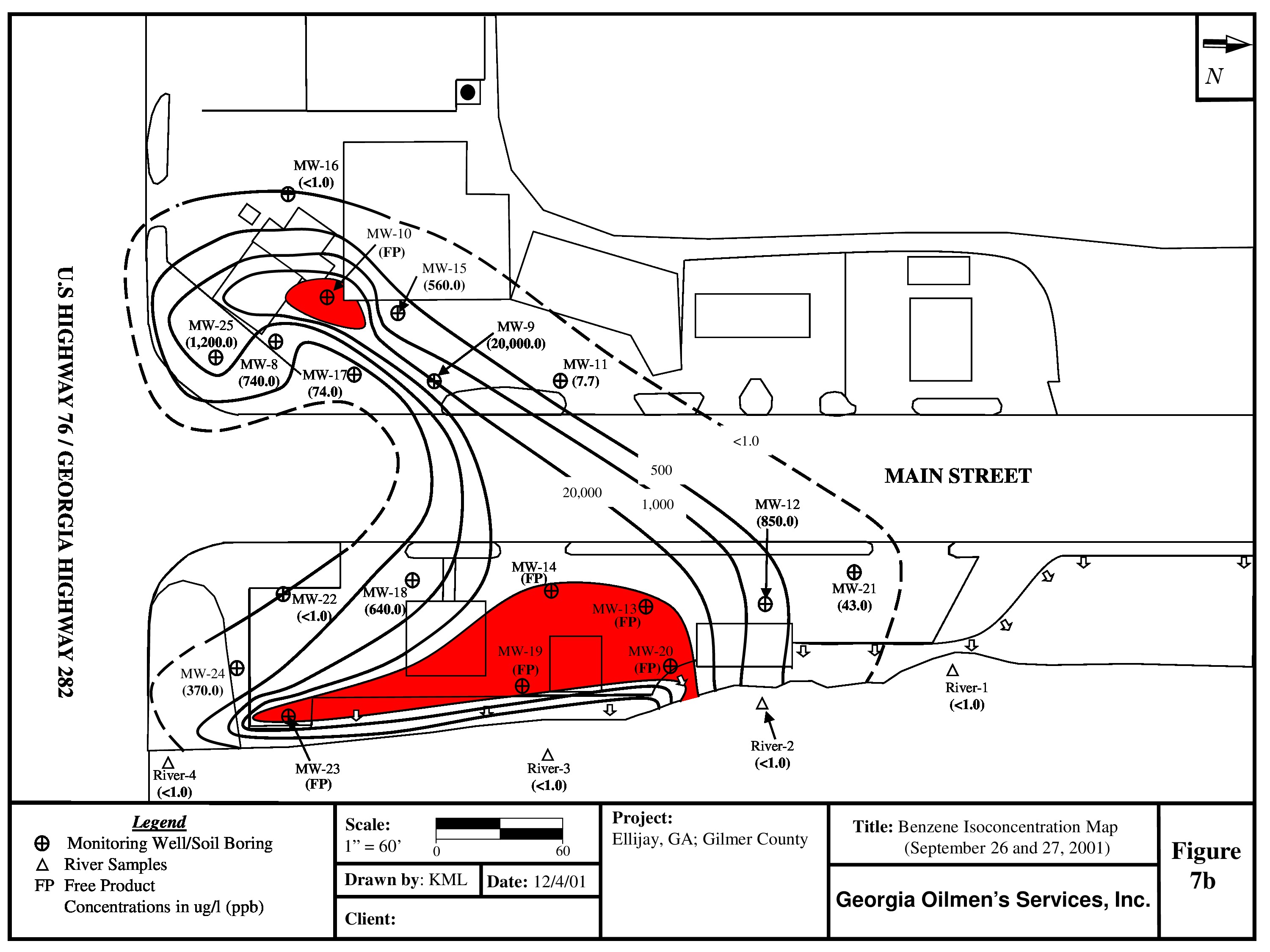 Historical Site Conditions
Prior to remediation, free product conditions have historically exceeded the applicable standards (1/8 of an inch) in 8 out of 18 monitoring wells at a maximum thickness of 2.97 feet. Dissolved Benzene concentrations in excess of the ISWQS had historically been detected in groundwater samples collected from 11 out of 18 monitoring wells at a maximum concentration of 22,000 parts per billion (ppb). The free product plume length was approximately 240 feet and the dissolved phase plume extended to 450 feet; both phases impacting the receptor.
Remedial Process
Two separate Multi-Phase Extraction (MPE) systems were installed for free product and dissolved phase groundwater remediation: One MPE system was located on the site property to remediate free product and dissolved phase contamination in bedrock, while the other was located down-gradient of the facility, on the west bank of the Coosawatee River, to remediate significant free product and dissolved phase contamination in bedrock / alluvial deposits.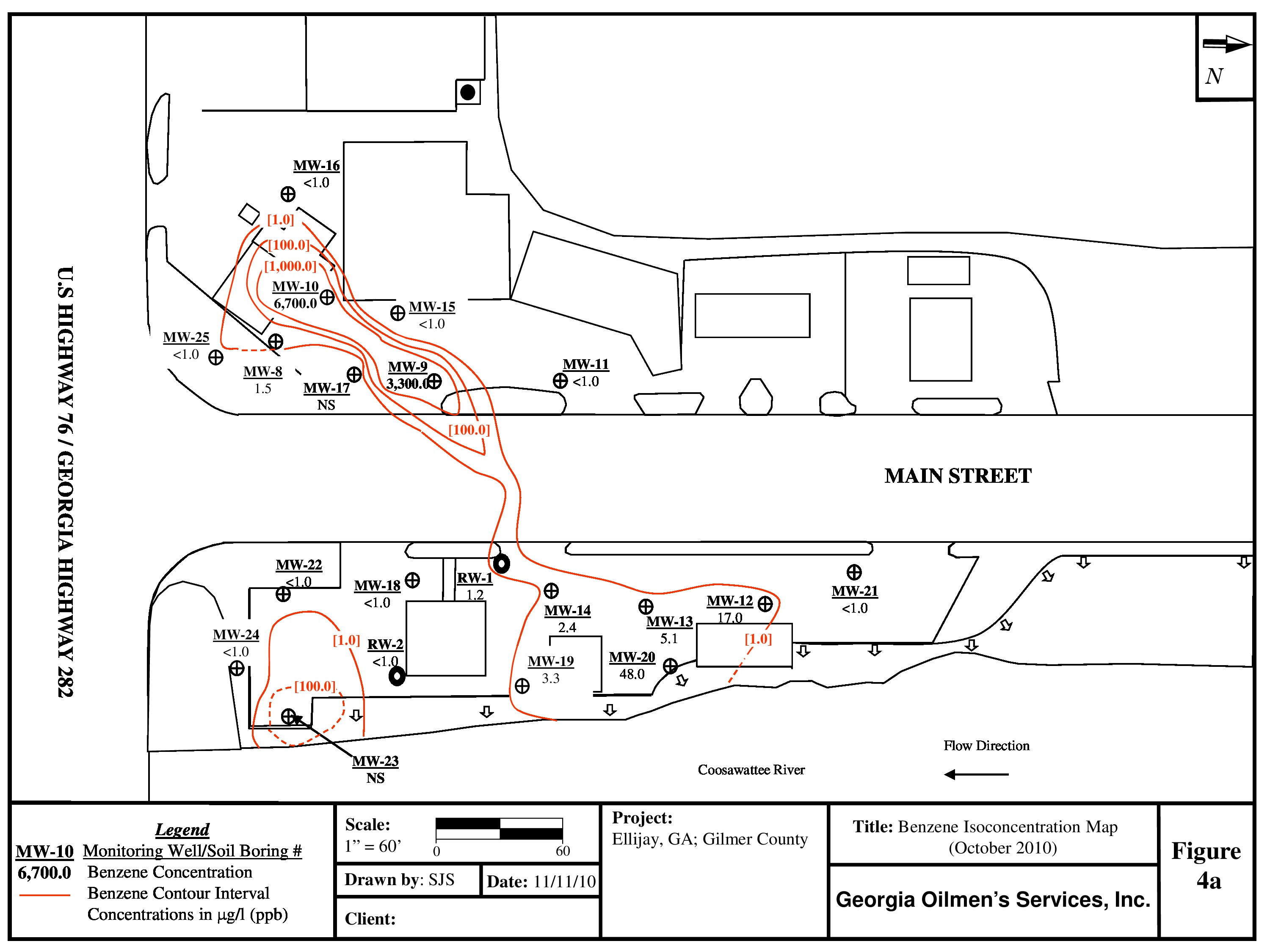 Results
The MPE systems operated for approximately three and one-half years. When the MPE systems were deactivated, the gauging and sampling results revealed no free product in any site monitoring wells and no downgradient groundwater Benzene concentrations in the vicinity of the Coosawatee River in excess of 100 parts per billion (ppb). The USMP granted the site a status of No Further Action (NFA) Required on August 4, 2011.
Total Costs
The total costs of the project to completion are approximately $1,155,000.
To learn more about Georgia Oilmen's Services, please contact us.