Environmental Consulting Tallahassee, Florida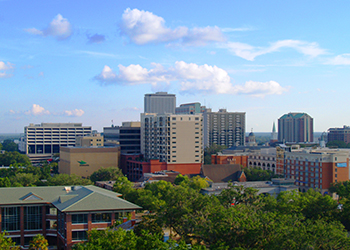 Tallahassee, home to our Florida headquarters, is a prime location for environmental remediation. Stretching from the Apalachicola National Forest to the South Georgia border, Leon County provides a wealth of opportunities for land development.
Georgia Oilmen's Services began providing environmental consulting to Georgia in 1996. The need for quality environmental professional services continued to grow and in 2013 we expanded to Florida. Originally serving our Florida customers out of Jacksonville. We've since relocated our headquarters to Tallahassee. We are proud to offer our services to the Big Bend and the surrounding region.
"...GOS has worked to handle the cleanup quickly and efficiently. Due to one of the solutions that GOS proposed to the EPD and EPA, we saved a considerable sum in waste disposal costs...We appreciate them for going the extra mile to help us out...Please let everyone know that we appreciate their assistance during a difficult time in our business..." – Billy Perry (Perry Bros. Oil Company, Inc.)
Our areas of expertise include:
Environmental Site Assessments - If you're looking to acquire or sell land it's important to ensure your site assessment is completed in a timely manner without cutting any corners. Our environmental professionals in Tallahassee have been providing site assessments for over 20 years. We will ensure you are educated about compliance requirements and explain your options should any issues arise.
View the environmental services we provide or visit our FAQ page for specific inquiries. Our team of experts is prepared to deliver custom-tailored assessments and reports that meet your unique goals. No matter your industry, we're here to help. Contact us today to ask how we can assist with your project.
Georgia Oilmen's Services | Florida
1637 Metropolitan Blvd., Suite A-1
Tallahassee, FL 32308
(770) 891-8884
mail@gaoilmens.com
Hours: M-F: 8AM-5PM