Underground Storage Tank Closures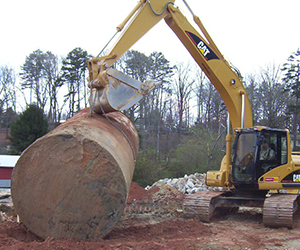 Georgia Oilmen's Services, Inc. (GOS) coordinates and provides project oversight for underground storage tank (UST) closures (inplace or removals) throughout Georgia, Florida and Alabama, whether temporary or permanent.
GOS has performed hundreds of tank closures throughout Georgia, Florida and Alabama. Closures have been performed in all manner of site conditions, from open fields to tight confined spaces. GOS has even removed industrial tanks where product lines extended beneath an active railroad track. We have also removed tanks from military installations in low-lying areas where dewatering was required.
Whatever the situation, we can make your tank closure a successful one. Contact us today or call (678) 225-4558 to find out how we can help your business.
UST Closure Process
Our process of closing an underground storage tank includes:
Notification to the appropriate local and state agencies (Fire Marshall and the Environmental Protection Division's Underground Storage Tank Management Program)
Oversight of removal and disposal of UST(s), including contents, associated piping, appurtenances and contaminated soil
Collection of required soil and groundwater closure confirmation samples
Submission of Closure Report to Underground Storage Tank Management Program, which summarzies closure activities and sample results
Presentation of conclusions within the report as well as professional recommendations
Learn your Options
GOS strives to make the best field decisions to ensure that small jobs remain small. Often, it is less expensive to acquire deeper soil samples at a closure site, rather than excavate and dispose of contaminated soil. GOS works with each tank owner to evaluate the available options.
Learn more about Georgia Oilmen's Services and our team. If you have questions about your storage tank, please contact us for a consultation.