Oil Remediation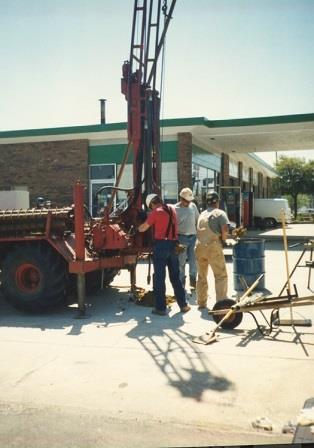 Georgia Oilmen's Services offers remediation services to remove contaminants that have leaked into groundwater, surface water, or sediment. Our team of geologists, scientists and technicians are capable of providing a wide array of testing to determine the exact location and types of oil contamination.
Oil Contamination
Often oil contamination is discovered during routine tank testing or after tank removal. Phase I Environmental Site Assessments can also reveal the need for environmental remediation. As part of a full oil investigation and assessment, Georgia Oilmen's Services collects soil and water samples and has them analyzed in a lab, supervises the installation of groundwater monitoring wells, and addresses all specific site concerns.
Once the information on the site's current environmental state has been gathered, contaminated soil is excavated and disposed of in a Subtitle D landfill that is specially designed to prevent further contamination of the surrounding environment.
In the case of water contamination, we perform a multi-phase extraction, which employs a vacuum system to remove contaminated groundwater, and/or in-situ chemical oxidation, which involves injecting chemical oxidizers that destroy contaminants.
Contaminants
Some common contaminants that we work with include petroleum-related contaminants from gasoline, diesel or oil including:
Benzene
Toluene
Ethylbenzene and total Xylenes (BTEX)
Polynuclear Aromatic Hydrocarbons (PAHs)
We've also removed Volatile Organic Compounds (VOCS), which are comprised of various petroleum-related and non-petroleum related chemicals.
Remediation Technology
Depending on the location of the contamination – whether in water, soil or both – we employ specific tactics to safely eliminate the contaminants without causing harm to the rest of your property. Multiple technologies come together in our soil remediation and water remediation, and all have proven highly effective in removing oil contamination. Our main goal is to effectively remove the oil so that it no longer poses a threat to surrounding soil or groundwater and restore your site to a healthy condition.
Contact Us
Contact us to ensure oil contamination is prevented or cleaned up in the most effective and efficient way possible.