Underground Storage Tank Inspections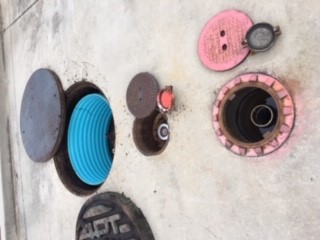 As part of the 2005 Federal Energy Act, additional funding was provided to the states to assist with the mandate for more frequent on-site inspections of sites with operating underground Storage Tank (UST) fueling systems. On-site inspections are performed by a member of the Environmental Protection Division (EPD). Part of the inspection will be to ensure accurate records of walk-through inspections, release detection tests and repairs have been properly documented.
Checklist for Required Records
The EPD has a standard form that they use when completing an onsite inspection, and has provided a checklist for the records required for all UST sites. Access a downloadable copy of the Checklist for Required Records.
What documents may be requested during an inspection?
Copies of the current tank registration form
Results of the most recent tank tightness testing (TTT)
Line tightness testing (LTT)
Automatic line leak detector test (ALLD)
Monthly inventory records
Statistical Inventory Reconciliation (SIR) records
Automatic tank gauge (ATG) reports
Corrosion protection testing report
Rectifier logs for the cathodic protection system, as applicable
Examine the UST system components
Note of repairs that may be required for spill prevention systems, overfill prevention systems, drop tubes, dispenser nozzles, dispenser hoses, gauging sticks, etc.
Copies of invoices showing the Georgia Underground Storage Tank (GUST) Trust Fund GUST fees have been paid.
GUST Required Records
Typically, the request for GUST fee documentation will be for one invoice per quarter for the previous two years. Additionally, while it has always been a part of Georgia's rules for UST management, one specific request for documentation has been viewed by many tank owners as particularly intrusive. EPD inspectors have recently begun requesting documentation that funds exist to cover the $10,000 GUST Trust Fund deductible. Proof of deductible funding can include a surety bond, letter of credit from a bank, a letter from your company's financial officer, or bank statements. Per the EPD's Checklist for Required Records, if bank statements for proof of cash availability are to be used, the proof must document cash assets exceeding $50,000.
IMPORTANT: Post Inspection Checklist
The EPD inspector will often complete a site inspection, leaving a checklist with the store's operator specifying the additional requirements to be provided to the EPD. Make sure your operators understand the importance of transmitting this document to your attention immediately. Failure to promptly submit the required documentation and/or perform the specified actions will result in the issuance of a Notice of Violation. Additionally, a Notice of Violation may include a proposed Expedited Consent Order, specifying a 'negotiated settlement amount', or fine, to resolve the particular violation(s). The EPD is often inclined to negotiate a reduction in the amount of the fine if they receive prompt compliance with their requests. However, the EPD evaluates these petitions for negotiation on a case by case basis, and is in no way compelled to reduce a fine and will not waive the fine completely.
New inspectors are still learning the specific details about the various UST fueling system components, and the inspectors may have questions about your particular equipment configuration and applicable compliance measures. We have found that most of the inspectors are willing to discuss the results of their inspections and to explain their requests for additional information. A lack of understanding or a non-applicable request from an EPD inspector does not alleviate your requirement to respond promptly.
Contact Us
Should you find yourself subject to an EPD inspection and require assistance with your compliance needs, contact us.