Multi Phase Equipment Technical Specifications
Technical Specifications of GRS mobile MPE unit are as follows: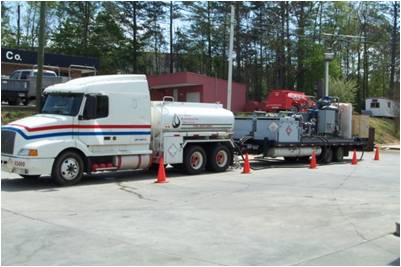 2 - Reitschle Zephyr VLR400 Rotary Claw
Motor: 10 HP, 230/460/3/60 volt TEFC motors.
Flow: 500 ACFM @ 15"Hg and 480 ACFM @ 22" Hg.
Influent free product, petroleum contact water and vapors enter the system through a five port manifold before entering a 120 gallon phase separator equipped with level switches.
All liquids are transferred into a 500 gallon polyethylene holding tank also equipped with high & low level switches.
Liquids can then be transferred into a 2,000 gallon holding tank mounted on the transport truck.
All liquids recovered are disposed of at a licensed wastewater recycling facility.
Vapors enter a 500 CFM thermal oxidizer that operates between 1,400 to 1,700oF, ensuring 99.9 % vapor destruction.
All of these components are powered by a propane fueled generator.
The system is equipped with interlocks to ensure safe operation at all times, and a cellular autodialer alerts GRS personnel of any shutdowns.
GRS is committed to working with our clients to provide the ideal plan for MPE operation to fit individual project needs.
If you have a need for multiple phase extraction services or would like additional information, please contact us online.