Contaminated Soil Disposal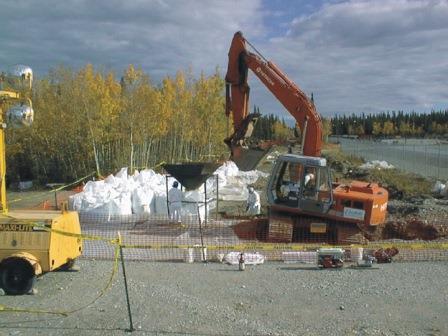 Georgia Oilmen's Services has the experience and expertise you need to safely remove and dispose of the soil contaminants and pollution on your property.
Contaminated soil can be caused by industrial or agricultural activity. It can also be caused by air pollution and even water run-off. If not properly treated or removed, contaminated soil can have negative effects to the human health. Chronic exposure can even result in chromosomal birth defects and can even be leukemia inductive.
Trust the team that is trained and proven in making sure you are compliant with all federal and state regulations. With over 20 years of experience, we will determine the best and most cost-effective solution for disposing of the contaminated soil on your property. Contact us today to learn more about our soil remediation services.
Soil Removal Process
Before Removal
Determine the depth and spread of the contamination.
Test to see what type of contamination is present through soil sampling.
Blend soil to get a uniform sample and then take back to a recycling facility to test for Total Petroleum Hydrocarbons (TPH) or pesticides.
Once the sample is returned and confirmed by a third-party lab, the remediation can commence.
Contaminated Soil Excavation
Pre-treat soil as needed to meet landfill requirements.
Excavate the soil.
Load it into an approved transportation truck.
Transport to an approved landfill.
Following Removal
Resample remaining soil to ensure all contaminants are removed.
Reach out to us today to receive a free quote or schedule a consultation with one of our team members to discuss your soil disposal needs.