Temporarily Out of Use USTs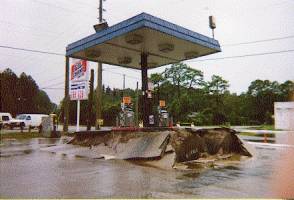 Failure to maintain the compliance of a UST system while Temporarily Out of Use (TOU) can result in costly penalties. Placing a UST system TOU needs to be an occasion to evaluate any shortcomings in your site's compliance, and can provide for an opportunity to correct any issues before a release occurs. If a deficiency is discovered prior to a site resuming fuel sales or during the review of a GUST Trust Fund application, it is already too late to correct it. Requests for backup documentation and audits of compliance and EAF records are becoming more and more common at the USTMP, so prepare now so that these risks and liabilities may be properly managed.
Changing Tank Status
As an owner of USTs at a site that is temporarily closed for business, the first task is to change the tank registration with the USTMP. A Revised Notification Data for UST Form 7530 is required that denotes the USTs at the site as Temporarily Out of Use (TOU). Click here to download a copy of the Form 7530.
The revised Form 7530 should be sent with a simple transmittal letter explaining: On (Month, Day, Year), two (2) gasoline USTs were placed temporarily out of use. Please find attached an amended EPA form 7530. We will notify the USTMP when the status of these USTs changes.
Compliance Checklist for TOU Tanks
The tasks to be completed on the site include both immediate chores and regular long term responsibilities.
All fuel, water, sludge and debris needs to be removed from the USTs to a level measuring less than one inch.
All product piping needs to be emptied, and all UST access ports and dispensers secured.
If the store is to be unoccupied, access must be available to the UST compliance equipment, including automatic tank gauge (ATG) consol and cathodic protection rectifier.
The regular UST system compliance testing schedule must be maintained for the duration of the time that the UST system remains TOU. This includes all tank tightness testing (TTT), line tightness testing (LTT), automatic line leak detector test (ALLD), and corrosion protection testing.
Often overlooked is that the power supply must remain on to any impressed current cathodic protection system, and the rectifier readings recorded every 60 days. Often there is not an active power supply to an unoccupied store. However, this does not relieve the owner of responsibility to maintain power to the corrosion protection system.
If a UST owner is not the store and/or property owner, the UST owner must still arrange for access to the property and building for the purpose of maintaining the power supply and all associated compliance measures.
Importance of Compliance
If any of the UST system compliance measures or records are not maintained while the system is TOU, the USTMP will view this as a deficiency in UST system compliance. Based on this type of deficiency, the USTMP may prohibit the site from resuming fuel sales and require the USTs to be removed. Additionally, this type of deficiency could potentially jeopardize GUST Trust Fund eligibility. Denial of GUST Trust Fund coverage for a site exhibiting substantial contamination could result in expenditures up to and potentially exceeding $1,000,000. Additionally, without the financial reassurance of the GUST Trust Fund, most lending institutions will not consider lending funds for a property transaction involving a property with USTs
Contact Us
These consequences can be avoided with advance planning from a qualified team. Please contact us to learn how we can help.